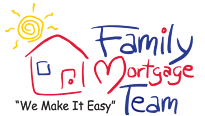 We are a team of mortgage professionals, who are up to today's complex mortgage challenges. Buying a home is the realization of a dream and it takes hard work to achieve this dream. You deserve a team of mortgage professionals working just as hard for you. With 50 years of combined experience, The Family Mortgage Team is your best solution, and we know how to get you to those exact three words you've been dying to here...."clear to close!"
About The Team:
Skip McDonough: As the President of Family Mortgage, I use my 40 years experience to oversee today 's complex mortgage process. My understanding of the overall market allows our team to plan accordingly and maintain the best rates and costs for our clients. My goal is to help deliver a smooth hassle free loan experience. Communication is an essential ingredient in any successful relationship … expect to hear from us often.
Evan McDonough: I am the lucky husband of my amazing wife, and a proud father of two superheroes boys. My journey at Family Mortgage started as a child as I am a third-generation mortgage professional. My family has been serving Florida homeowners for almost 50 years. I grew up living, eating and breathing mortgage lending. As a result, I have an in-depth understanding of mortgage principles. More importantly, I understand the importance of respecting people. Together, we've assembled an incredibly knowledgeable and committed team to assist with you with the home buying process. Let's start your journey together today.
Anne Trueblood: My focus is your satisfaction. As a Certified Underwriter with over 20 years experience, I bring a unique perspective to assisting you thru the mortgage process. Buying a home can be an emotional experience. I'm committed to being by your side throughout and keeping the process as easy as possible.
Teresa Wedgworth: In 2002 I joined Family Mortgage as a loan processor which allowed me to learn the mortgage process from beginning to end. My focus is to make the financing experience easy and smooth. Putting buyers into homes gives me tremendous satisfaction. Here at Family Mortgage, we work as a team bringing many years of experience to the table and committing ourselves to excellent service.
Jeannine Henrion: I was born and raised in Palm Beach County. I attended Florida State University where I studied economics with a special emphasis in tax and finance. A greater than 15-year career in the mortgage industry split between California and Florida enables me to help my clients understand that national media information about the real estate and mortgage markets are not necessarily the information that they need to make decisions about the micro-economy of Palm Beach County which is well on a path to recovery. I believe giving back to the community is important and I actively seek opportunities to be of service. While being part of the home ownership process is very rewarding; my other pleasures include time cooking, gardening, fishing and spending time at our beautiful beaches with a wonderful family and amazing friends.

Choose Family
Mortgage
and find out why our Clients say ...
"We Make It Easy!"